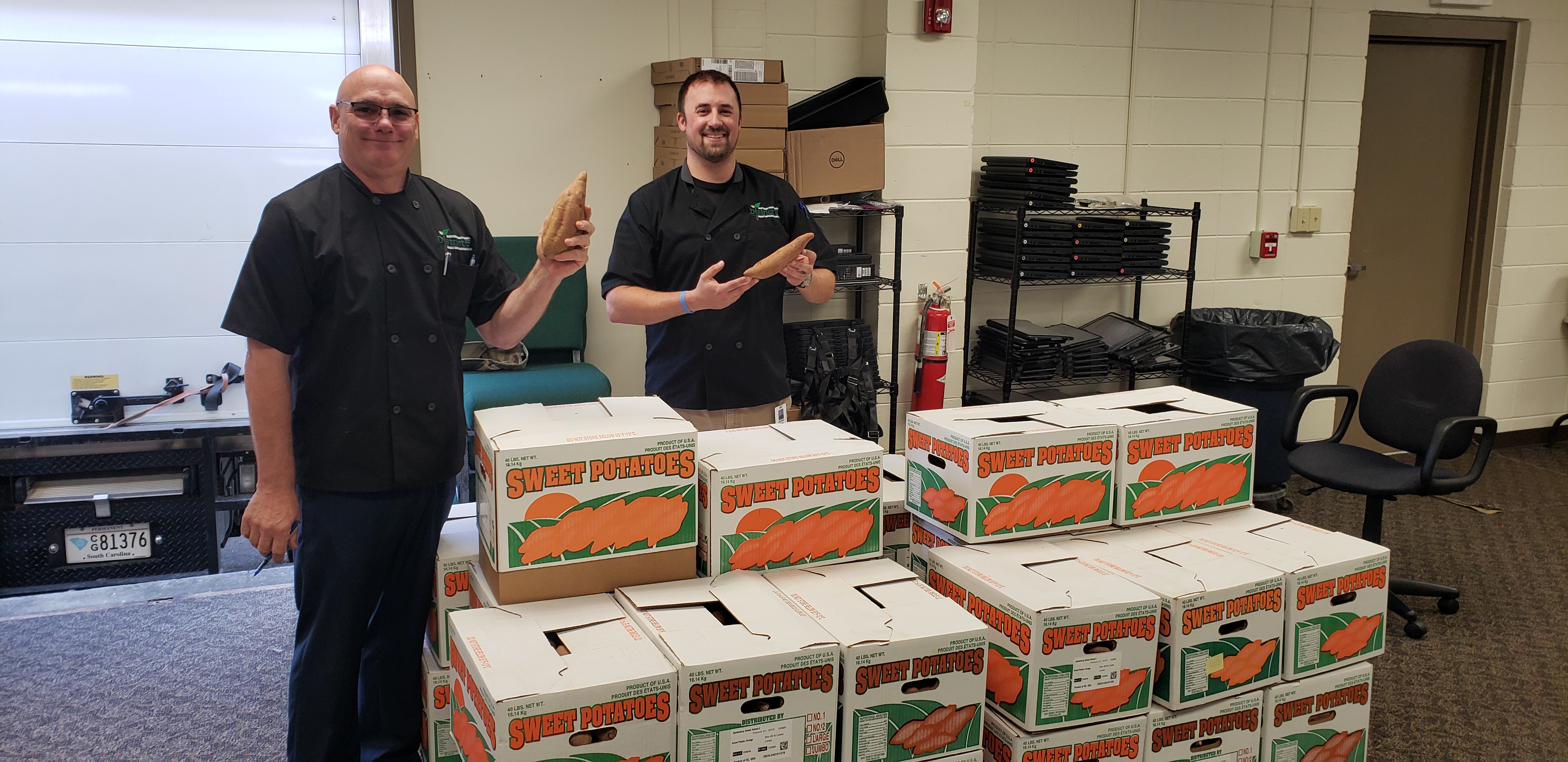 Farm to School
Union County Schools Food and Nutrition Services received 36 cases of organically grown sweet potatoes from District Six at Cragmoor Farms in Roebuck, SC. Chef Ron Jones, Director, and Chef Andrew Evans, both of Spartanburg District Six Organic Farm & Nutrition Services, personally delivered these beautiful sweet potatoes for our food service staff to prepare and serve to the students of Union County Schools in the next couple of weeks. This is a wonderful Farm to School opportunity for our district, and we look forward to partnering with our neighbors in District Six for another chance at experiencing additional organically grown produce items in the future.
Good nutrition and learning go hand in hand!
The Union County Schools Food and Nutrition Services department is made up of a team of food and nutrition professionals that are dedicated to students' health, well being and their ability to learn. We support learning by promoting healthy habits for lifelong nutrition and fitness practices.

All food products and beverages served or sold at schools meet state and federal requirements which are based on the USDA Dietary Guidelines. We serve a variety of fresh fruits and vegetables along with appetizing entrees that meet the health and nutrition needs of our customers. The goal of our program is to make a positive impact on others' lives by providing excellent customer service and serving quality food.
Thank you for your interest in our program, and we look forward to you dining with us!

Harvest of the Month

Please be sure to check out our Harvest of the Month on the Menus Page of our website... click here to find the Harvest of the Month!


Are you someone who wants to make a difference in a child's life? Do you desire to have nights, weekends and summer off? Are you looking to make some extra money part time? Is this YOU?
Union County School Food Service is looking for people to perform a variety of routine tasks, preparing, cooking, and serving healthy nutritious food to children in Union County Schools.
If you are interested in a Food Service substitute position please contact
Linda Lawson
864-429-1740
Working Hard for something we don't care about is called STRESS.
Working Hard for something we love is called PASSION.